Built with Ionic: million eyez mobile and progressive web app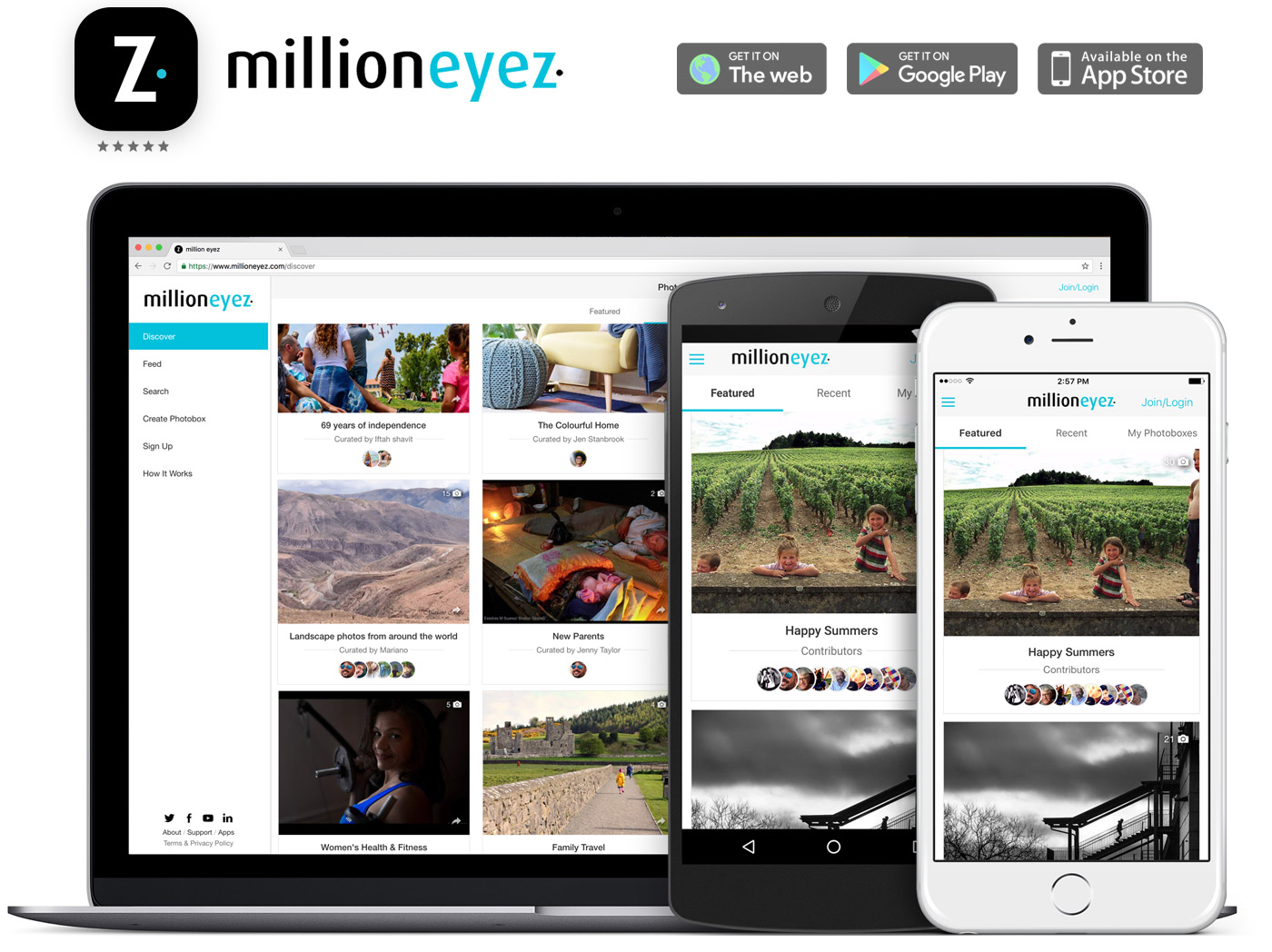 million eyez is a fast-growing startup with a big mission – to reinvent visual storytelling. Their community-driven platform connects storytellers with carefully curated photo collections, sourced from a global community of contributors.
Curators can use the million eyez website and mobile app to view and organize collections into Photoboxes. The mobile app also allows contributors to upload and select photos right from their devices.
Check out the case study to get the complete million eyez story.
Disrupting industry giants
When they started, the million eyez team faced an enormous challenge: how to disrupt the traditional photography trade, owned by industry giants like Getty Images, with a development team of just one developer and one designer.
Co-founders Carmit Hirsch and Idan Elgar knew that the success of their platform depended heavily on their ability to create visually stunning and highly responsive experiences – across mobile and desktop devices – in order to drive adoption among community members.
In the early days, the team was slowed by relying on separate code bases for desktop and mobile apps. Maintaining parity across all digital experiences was a big pain. Adding a feature in one app meant replicating it in the others in parallel. Things quickly got out of sync.
A single code base, running everywhere
Knowing they wouldn't be able to scale this way, Carmit and Idan began looking for a cross-platform solution that would allow them to consolidate down to a single code base. They also wanted a development framework that was web based. "We're web people", says Idan, the company's CTO. "We think web is the future, and so we wanted something based on open web standards."
After evaluating other cross-platform solutions, they chose the open source Ionic Framework.
Today, the entire million eyez platform, including their browser-based website and mobile apps for iOS and Android, now run on Ionic – all developed with a single code base.
The benefits of going cross-platform
Moving to Ionic has helped accelerate app development by a factor of 3x or more, according to the million eyez team. With Ionic's pre-built components, they can create and modify apps quickly, without having to build from scratch.
Ionic gives the million eyez team greater flexibility, with the ability to easily modify design themes and elements. "I could change whole look and feel of the app using just CSS. That was a big wow for me", says Carmit, the platform's Chief Product Officer and Lead Designer.
The biggest benefit of all? One code base for mobile and desktop apps. "Any member of the team can handle anything in the code, regardless of which platform.", explains Idan. "And now every feature we have for mobile we have for desktop. We didn't have that before, you had features in different places. Now it's more complete and more consistent."
The million eyez platform is available on the Apple App Store, Google Play Store, and as a progressive web app and desktop website.
---
---