Ionic Wins Comparably Awards for Best Work-Life Balance and Happiest Employees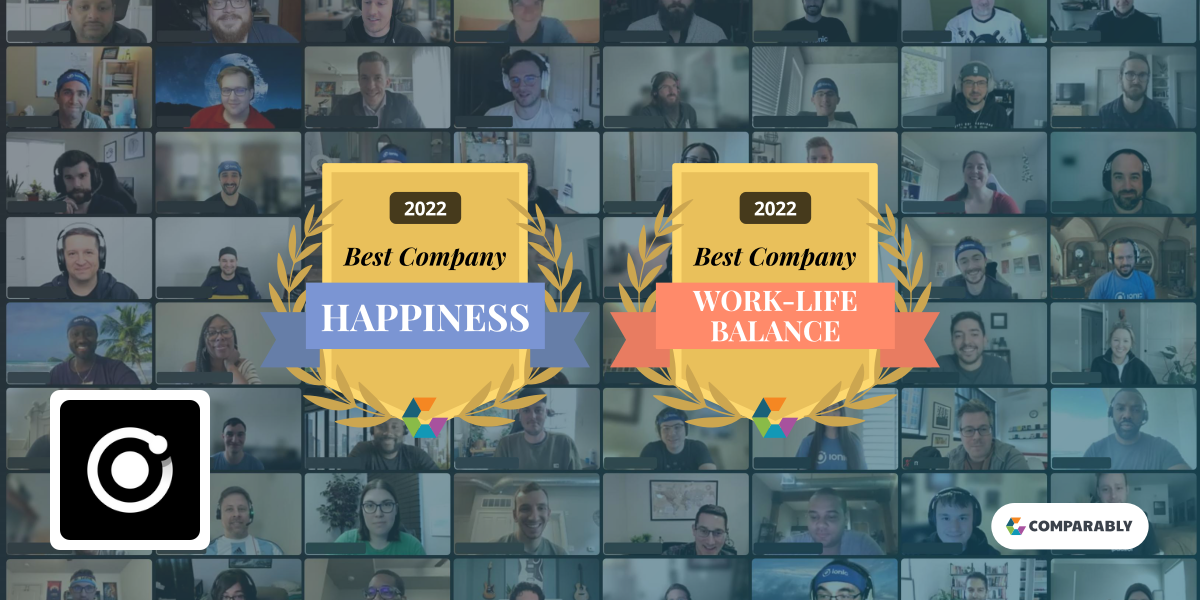 October 2022
Ionic has been named one of the top companies for Best Work-Life Balance and Happiest Employees by Comparably, a leading culture and brand reputation platform.
Comparably's awards are based on employee feedback submitted to Comparably.com within a 12-month period (Sept. 14, 2021 through Sept. 14, 2022) and look at thousands of companies.
 The Happiest Employees category is determined by a combination of factors that contribute to happiness at work, such as  environment, pay, benefits, excitement about work & co-workers, clear company goals & investment in them, and company pride. 
Best Work-Life Balance is determined by employees' overall satisfaction with how much they work on average, among other factors. .
"We're thrilled  to be recognized for these two awards as company culture is top of mind for our leadership team and all of the team members who make Ionic a great place to work. Work- life balance and creating an environment where our team can be happy at work are foundational pieces to our culture," says Max Lynch, co-founder and CEO of Ionic.
Ionic maintains an A+ rating on Comparably, with an average rating of 4.8/5. "Ionic honestly has been the best company I've worked for, I actually enjoy coming to work each day!" says a member of the sales department. An engineering team member said "from the people to the work, individually I feel like I'm making a difference and able to learn and provide value while growing in my own career." An Ionic marketer added "The work brought me here, the people make it better than I could have imagined."
Despite being a fully remote workforce, we pride ourselves in a strong company culture. From great work-life balance to industry-leading benefits, we're proud to be a place that people love to work.If you are interested in joining a humble, passionate team, visit our careers page to learn more about current openings.
About Ionic
Ionic is a leader in enterprise mobile app development, with 5 million developers worldwide and thousands of enterprise customers who use Ionic to build mission-critical apps for their customers, both external and internal. It powers 15% of apps in the app store, not including thousands of apps built internally at enterprises for every line-of-business need. Ionic is unique in that it takes a web-first approach, leveraging HTML, CSS, and Javascript to build high-quality iOS, Android, desktop, and Progressive Web Apps.
About Comparably
Comparably (www.comparably.com) is a leading workplace culture site and corporate brand reputation platform with over 15 million anonymous employee ratings on 70,000 companies. With the most comprehensive data on large and SMB organizations in nearly 20 workplace categories– based on gender, ethnicity, age, experience, industry, location, education – it is one of the most used SaaS platforms for employer branding and a trusted third party employee review site for workplace culture and compensation. For more information on Comparably's studies, salary reports, and annual Best Places to Work Awards, visit Comparably News.
---
---