A Trusted Foundation for Enterprise App Development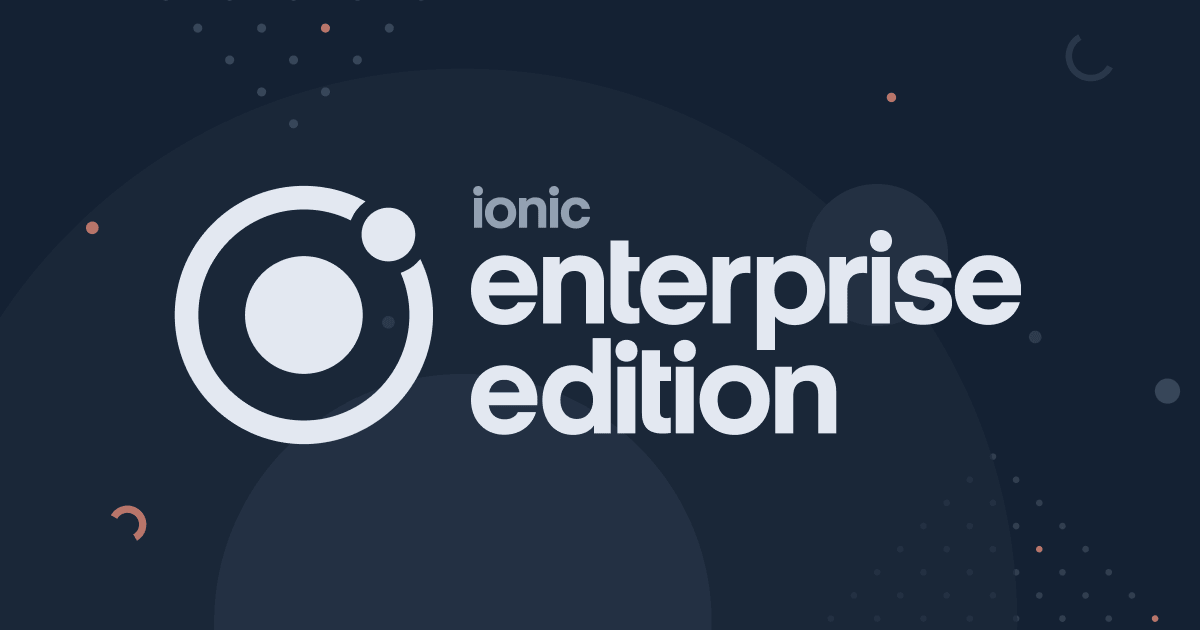 Whether you're a lead engineer, an architect, or the head of application development, when you commit to a development stack, you're putting a lot on the line. Time, people, money, and maybe even your reputation.
Choosing one development approach over another is not just about your personal preference–it's about risk.
When considering Ionic for a new development initiative, for example, you might ask…
Will I be able to access all the native features I need?
Will it work on the platforms I care about?
Will it integrate with my legacy systems and backend services?
Will I have to migrate my entire project when a new version comes out?
Do my people have the skill set to execute on this? Will they enjoy it?
Given the enormous pressure put on app development teams to pick the right solution, we understand the need for more than just a casual assurance that Ionic will work for you. That's why we're introducing our latest product built for the enterprise, with stability and security in mind.
Introducing Ionic Enterprise Edition
Today, we're unveiling Ionic Enterprise Edition, a stable, supported version of everything you need to build full-stack apps with Ionic, including native features, plugins, and backend integrations. Ionic Enterprise Edition provides enterprise app development leaders with the professional assurances they need to confidently choose Ionic: Guaranteeing that our entire ecosystem, front to back, will work on the platforms they care about most – now and in the future.
Peace of Mind at Every Level of the Stack
Ionic Enterprise Edition provides professional assurance at every layer of the stack. Not just the frontend UI, but also in the native layer and backend integrations. Why extend this support to native plugins and backend services? Because we know that building a full-featured app means a lot more than just getting the UI to look great across platforms. It means tapping into the latest in native device features, adding robust frontend security, and integrating with third-party service providers or legacy backend systems.
We've spoken to many enterprise customers that are happy with Ionic Framework, but inevitably run into trouble implementing a community-supported Cordova plugin, or writing an API integration from scratch. To feel confident embarking on a new development project, these teams need to know that everything required to deliver the features they need will work and continue to work as expected with fast, reliable support when things get a little tricky.
With that in mind, Ionic Enterprise Edition provides all of the following and more:
1. Frontend UI: Ionic Framework support for the latest stable version included with Enterprise Edition
2. Native layer: A full suite of native plugins that are built and maintained by the Ionic team, and guaranteed to work on all supported operating systems and devices
3. Backend and third-party integrations: Premium integrations with third-party services like AWS, Couchbase, Azure, and more, available as add-ons exclusively to Enterprise Edition customers
Long-Term Support
With the pending production release of Ionic 4, many long-time Ionic users may be concerned about the stability of the apps they've already built with older versions of Ionic as well as the timeliness and reliability of fixes to older, open source versions. It's for that reason we are including long-term support (LTS) as part of Ionic Enterprise Edition.
The standard LTS included with Enterprise Edition will cover previous versions of the Framework for up to three years with the option to purchase an additional two years of support if needed.
Advisory Services When You Need It
On top of this, Enterprise Edition customers will get exclusive access to our Ionic Advisory and Training services. While it's great to build with a stable, supported ecosystem that you can rely on, there are times when you just want direct access to the experts who can help you overcome an issue or optimize the apps you're building. Our mobile engineers and well-versed experts have helped many customers overcome challenges already and we're excited to make this type of support available to Enterprise Edition customers.
Pricing and Availability
Ionic Enterprise Edition is for any professional development team that wants the stability, power, security, and peace of mind that comes with knowing the Ionic team will support your development efforts at every level of the stack. No matter your business size, we have custom plans available for smaller companies all the way up to the largest enterprises. So what are you waiting for?
Contact our team if you're interested in receiving a custom quote and learning more.
---
---