Ionic + Outsystems: The Future of Enterprise App Development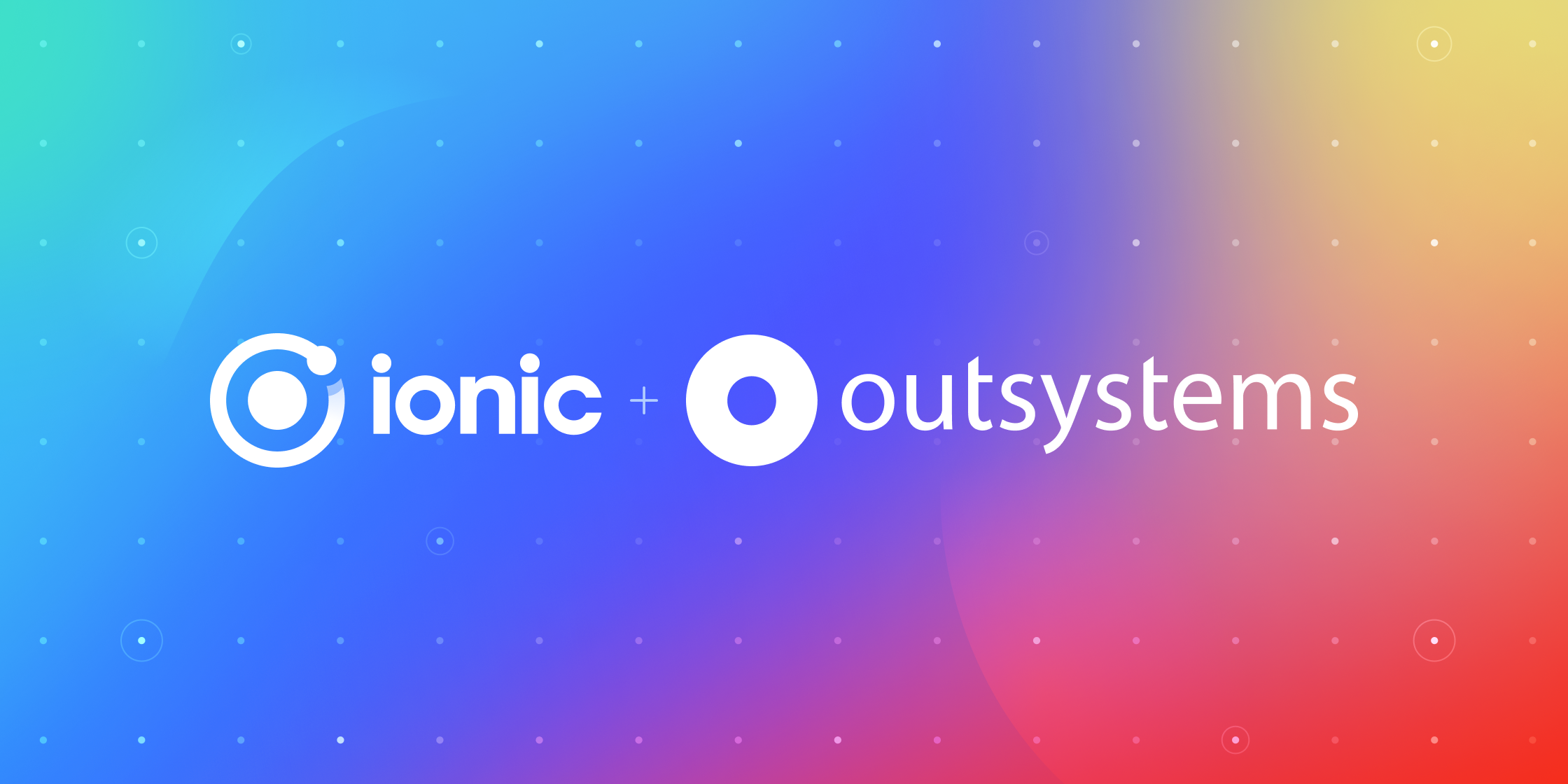 Today we're incredibly excited to share the news that Ionic is joining OutSystems to help build the category leader in enterprise app development. You can read the full announcement here.
TL;DR – Ionic will remain independent, and you can expect a significant investment in our open source and R&D.
What this means
While this is big news for us, we're even more excited about what it means for the Ionic developer community and our enterprise customers. 
The OutSystems leadership team shares our vision for enterprise app development, and they intend to make a major investment in the Ionic platform that will help us continue to provide a world-class experience for our customers and community members. You can expect to see a significant increase in product engineering and R&D over the coming years. That applies to all of our products, including our open source projects as well as our cloud services and enterprise platform features. 
Ionic will continue to operate as an independent business within OutSystems. While we see a ton of very exciting opportunities to integrate our two platforms (more on that below), the OutSystems team has been very clear that they want Ionic to continue to thrive and grow as a standalone business. 
Over time, we're excited about the potential for deeper, product-level integrations between our two platforms. OutSystems offers a rich array of backend services, AI-driven development, and 3rd-party integrations, to name a few. We foresee deep integration with these services to help Ionic developers build full stack apps without having to leave the Ionic platform.
I'm amazed at what we've been able to accomplish with a relatively modest amount of funding over the years—thanks to this community, the power of our products, and our incredibly talented team. Nonetheless, I'm thrilled at the prospect of such a significant investment in Ionic. 
Why we're joining forces
Founded in 2001, OutSystems pioneered enterprise low-code development and is the leader in the category. Now a large, successful business helping companies around the world build the apps they need in order to stay competitive, they take a unique approach to low-code by focusing on enabling developers to elevate their performance with advanced AI, built-in security, and serious scalability. Today, OutSystems has over 1,700 employees, multiple offices around the world, and has achieved unicorn status as an enterprise app dev powerhouse.
OutSystems has always been an inspiration for me personally because they cracked the code on building a powerful business in the app dev market, which is exactly what we set out to do at Ionic.
Earlier this year, the Ionic and OutSystems teams had a number of discussions around a technical partnership. As we got to know the team at OutSystems, we discovered how nearly identical our missions really were, and it became more and more obvious to us both that we would truly be better together—combining high-performance low-code and traditional open source development modes into a single great product experience to enable enterprise teams to build all the apps their organizations need, quickly, securely and with enterprise-grade performance and scalability.
Our journey here
When Ben Sperry and I started Ionic in 2012, our mission was simple: we wanted to enable more people to build software by making it easier and more accessible without sacrificing quality along the way. 
Immediately, we knew that web technologies would be the best way to achieve that. But at the time, the concept of using web technologies to build mobile apps was still in its infancy, and the tooling around it was limited. We had different browser APIs (or lack thereof) and browser engines, AngularJS was only just starting to gain traction, and iOS 6/Android 2.3 were powering a significant number of some seriously underperforming devices. In hindsight, it feels like we had so much stacked against us.
Yet, we believed that it was not only possible to build great mobile experiences with the Web, but that it could be done more easily and efficiently than virtually any other method out there. What we really needed was a better platform that connected the best parts of the Web and Native into an integrated developer experience. We knew the best way to accomplish this was with Open Source, where virtually anyone in the world would be able to join in, contribute, and help shape the future of this vision. So we created Ionic Framework, and subsequently Stencil, Capacitor, and many more products along the way.
It's safe to say that, with the help and support of our incredible developer community, Ionic has surpassed everything I thought we could achieve—and continues to grow beyond my expectations. Over the last ten years, developers have shipped hundreds of thousands of Ionic apps to public app stores and built many thousands more internally for nearly every corner of their organization. Ionic's open source projects have become some of the most popular in the world and are now critical infrastructure of the web and mobile industry. 
Along the way, Ionic also built a serious commercial business, enabling companies of all sizes to scale app development and successfully navigate the world's massive shift towards mobile-first experiences. With critical native security solutions, industry-defining mobile micro-frontend technology, powerful Mobile DevOps cloud services, and customer-loved support every step of the way, Ionic has become a true leader in enterprise app development.
We're just getting started
One of the things I'm most proud of is the incredible community that formed around Ionic. Together, we created a movement around the idea that web developers can build great mobile apps using the technologies they already know and love. 
This is just the beginning. I'm thrilled about the increased impact the platform and community are going to have as part of OutSystems.
Expect to hear from us frequently as we continue to improve and grow the platform you already love, while working toward building the best enterprise app development platform in the world.
In fact, we'll be hosting a special Ionic Show in early December where we'll be discussing the future of our shared vision and addressing questions directly from the community. Stay tuned for more details and an opportunity to submit your questions in advance.
From all of us at Ionic, thank you! This is a significant milestone in Ionic's journey, and none of it would be possible without the wonderful community members, customers, partners, and employees that make what we do possible. I want to thank each and every one of you for your support along the way and for building the amazing apps that inspire us. We truly are just getting started.
---
---