My Ionic Story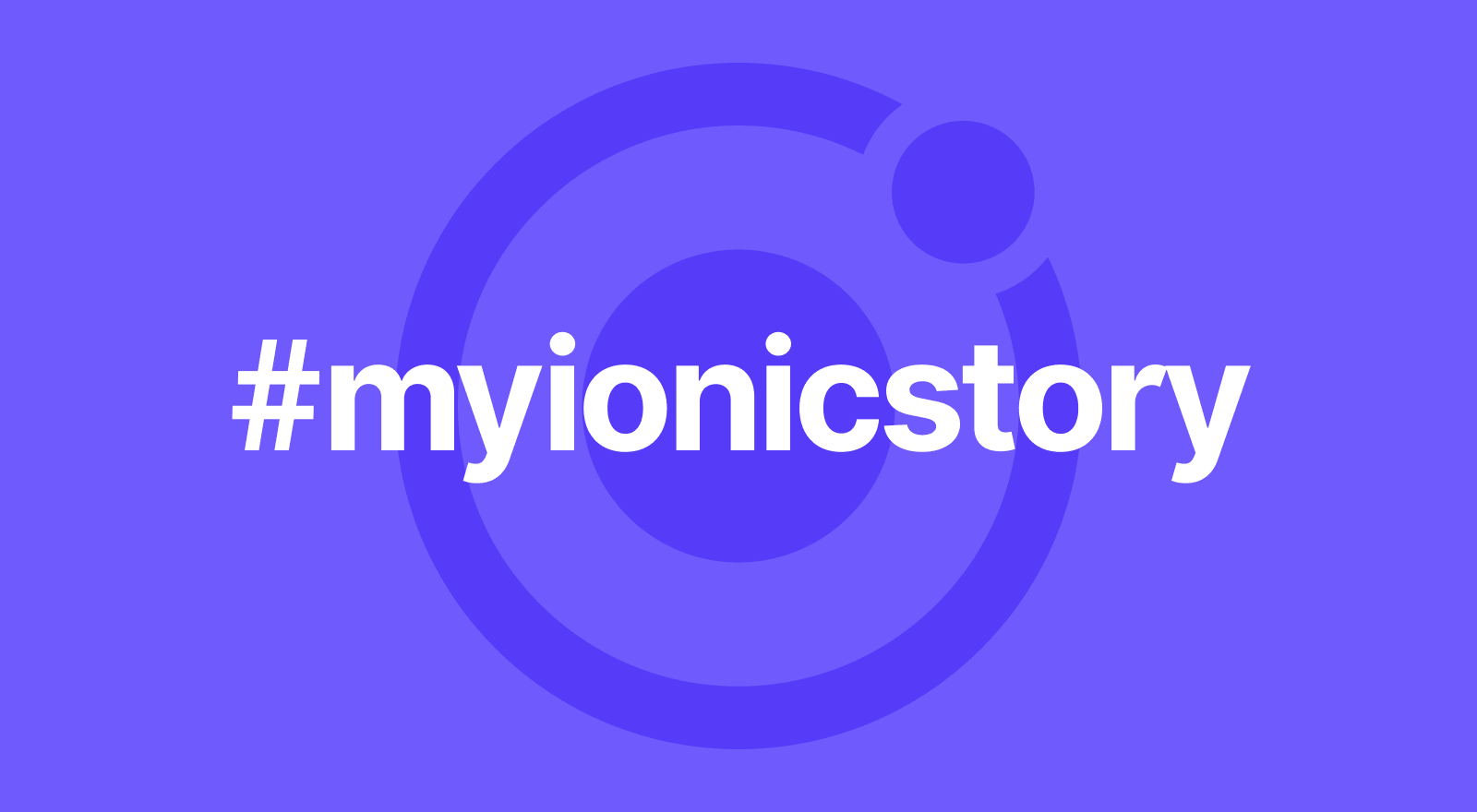 Well hello there, Ionic community! I wanted to take a moment and tell a story about a hashtag on Twitter. This hashtag brought so many smiles to my face and everyone at the Ionic office that we decided it deserved more notoriety.
This is the story of how #MyIonicStory came to be and why it matters so much to us.
Humble Beginnings
A while back, it was brought to our attention that the Ionic Japan user group had undertaken an effort to translate all the Ionic docs into Japanese. Their logic was that those who speak little to no English would be able to use the docs more effectively if they could better understand Ionic Framework's APIs. So the community (all on their own) came together and translated all of the content on the docs site.
This was amazing to see and inspired Perry, who really took this to heart, to make it more official.
So, he began collaborating with Masahiko Sakakibara to integrate the Japanese docs into the official Ionic docs site and created a process for translating more languages down the road:
Thank you so much for all of your work! Not only has it let us reach more people in Japan, you have given us a template we can use for other languages as well.

— Perry Govier (@perrygovier) May 23, 2019
This was such a massive community effort and we were very thankful to Masahiko, and vice versa. He was thankful for the opportunity to give back, and started this whole thing with this tweet.
Everyone Has a Story
With Masahiko's tweet in mind, I put a call out to the community, ask to hear their own stories about how (or even if) Ionic had changed their lives:
I like this a lot. Make me think that our work at Ionic is not just making cool shit, but actually changing peoples lives. So tell me, what's your @Ionicframework story? #MyIonicStory https://t.co/WW5bXoJdxj

— Mike Hartington (@mhartington) May 23, 2019
I wasn't sure what to expect to hear from people. One part about working on the framework is that we're often in our own silo, focused on adding new features or fixing bugs. However, the community did not disappoint:
If feel like my #MyIonicStory kinda fills a whole post and not only a thread… It made me become self employed, fulfill my dreams and continues to amaze me every day!

— Simon Grimm (@schlimmson) May 25, 2019
I started with version 1, I was asked to build an app using jQueryMobile, but I knew about Ionic so I showed the client Ionic and started from there. Now I've built a couple of app as a freelancer for large organisations #MyIonicStory

— Stephen Adams (@stephenradams) May 24, 2019
I started with Ionic in the 0.x days building a cross platform crime management application with @DurhamPolice. I was in my second year of university and made a lot of mistakes. Ionic and AngularJS allowed me to fail fast. #MyIonicStory

— Paul Halliday 🌊🐉💙 (@paulhalliday_io) May 23, 2019
#MyIonicStory (Professional Edition). Given 4 months and limited budget to rewrite business-critical handheld app. Told "Android or iOS – we don't know yet." Pitched @Ionicframework and a custom Cordova plugin. Shipped early and with zero bugs. Business said best rollout ever.

— Michael Callaghan (@walkingriver) May 24, 2019
https://twitter.com/saniyusuf/status/1131723529768980482
I started @Ionicframework dev in the 1.x days and registered for a workshop at Angular Connect with @adamdbradley, @perrygovier and @maxlynch Ionic 2 beta was released pretty much the same day. Ionic has kept my family warm, watered and fed ever since 😀#MyIonicStory #thankful

— Richard Shergold (@RichardShergold) May 23, 2019
2016: I quit my job with the idea of develop ionic (1) templates. 3 years later: +10 starter templates, +1500 sales and +100 apps.

Next chapter: My first book on how to develop full stack apps (for the real world).#MyIonicStory

— Fernando Mendoza (@fm3ndoza) May 25, 2019
https://twitter.com/TheLebDev/status/1132692414727118848
#MyIonicStory whenever a friend has an App idea and wants me to develop a prototype in a few weeks. Ionic and firebase are my got to frameworks/services. Ionic has allowed me to quickly evaluate the feasibility of an idea.

— Vane Zulu (@VaneZ101) May 25, 2019
#MyIonicStory I started using Ionic that week that the project reached a thousand stars on github I believe in a week, I hear about it on a web related newsletter, that I was following at that time and I'm using it on all my mobile projects since, every new release it gets better

— Éverton R. Auler (@EvertonAuler) May 24, 2019
#MyIonicStory es que soy venezolano y uso Ionic desde la versión 1.0.0-beta.2, recuerdo no saber ni Javascript ni AngularJs, pero me enamore de Ionic y aquí estamos más de 5 años siguiendo y creciendo juntos 🤗 execelente trabajo y equipo @Ionicframework

— José Salazar (@salazarr_js) May 25, 2019
There were so many tweets and comments from people about how they basically were able to change their lives after learning Ionic. From people who were in one technology stack then moved to Ionic, to people who completely changed their careers and now are full time developers. Ionic can't take credit for all their success, but I do take some pride in knowing that Ionic was a catalyst for change in their lives.
What's Your Ionic Story?
After seeing this thread explode in popularity in less than 24 hours, we were blown away to learn the impact we've had on so many people's lives. These are the kind of stories that keep us focused on making Ionic better.
Ionic was built by developers for developers. We wanted something better than what was available and knew that others would want it too.
So with that in mind, I ask you, what's your Ionic Story? Leave a comment below or send us a tweet.
Cheers 🍻!
---
---