Q4 Ionic Show Recap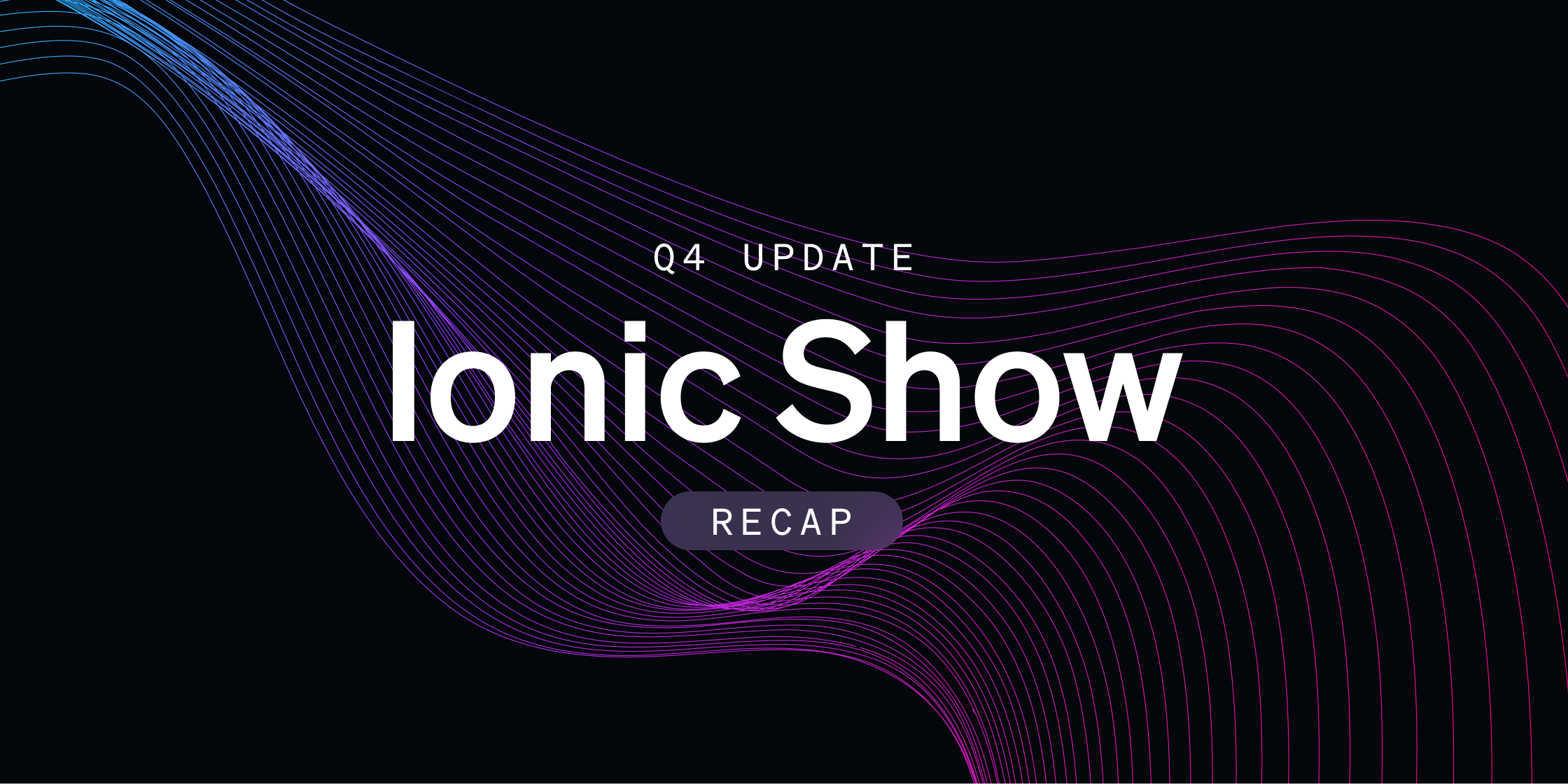 Our last Ionic Show of the year was all about looking back at what we've accomplished together, as well as looking forward to what's to come. From updates to what's next as Ionic joins forces with OutSystems to our latest venture to colonize the moon (just kidding), this Ionic Show covered it all!
Here's what you may have missed:
A stroll down memory lane
Max, Ben, and Mike looked back on all the team has accomplished in 2022. 
A booming community
There's no better way to kick off an Ionic show than by talking about our awesome community (5:02). We've been working hard to meet the community where they're at- we even created a new community Discord, which has grown to thousands of active users. It's proven to be an invaluable way to connect with you all, source new ideas, and help fix issues.
Framework 6
We've done over 60 releases of Framework v6 this year, and the team talked all things Framework around the 10:00 mark. Each release is chock full of new features, fixes, and updates (many of which come from the community), which is helping propel Framework forward. Check out the latest on Framework on our shiny new blog!
Cap updates and plugins galore
Around 13:55 the team chatted about all things Capacitor- from Capacitor 4's release earlier this year to support new app store policies and ultimately set us up for the next major version of Capacitor. We're also working on making it easier than ever to integrate your favorite plugins (hello, Google Maps)! There's even a seamless way to migrate your plugins from Capacitor v3 to v4 thanks to community member Masahiko Sakakibara. We're continually working to integrate more and more community requests into our products, and we're excited about what's to come.
VS Code Extension
Around 22 minutes in, Max talked about the VS Code extension, which saw some exciting upgrades this year. Ionic team member Damian has been hard at work talking with tons of enterprise customers. He's taken all the issues that people typically run into when building JavaScript, Ionic, and Capacitor projects, and turned it into tooling that makes your life way easier. For instance – one of the updates helps you manage dependencies – major win.
With 86,000 installs and tons of 5 star reviews, lots of folks agree! 
Appflow keeps getting better
Our team has also been working tirelessly to improve Appflow, our mobile CI/CD solution (and we talked about it around the 27:09 mark). From build stack updates to keeping up with app store changes, we're committed to keeping our customers up to date and building seamlessly. We've made numerous UI improvements for usability, and we released Appflow for React Native! Appflow is even SOC 2 Type 1 compliant now, showing our continued commitment to keeping our customers' data totally secure so that they can build with confidence. We'll also be expanding Appflow's capabilities – including support for traditional iOS and Android slated for early 2023.
Portals everywhere
Around 29:51, the team talked about Portals, Ionic's mobile micro frontends solution. This year, we introduced Portals for Capacitor as well as support for React Native. We've heard some requests for Flutter support as well, so we're asking the community to help us gauge that demand. If you're interested in being a tester/giving us feedback, please get in touch! If you're interested in learning more about micro frontends and what they can mean for your business, join us for the first ever Micro Frontends Summit, coming in January 2023!
Trapeze
We released a major open source project – Trapeze, earlier this year, which the team talks about around the 33 minute mark. Born out of real customer need, teams came to us saying that they were putting apps into CI/CD workflows but needed to make regular changes to their project configuration. Trapeze enables teams without serious native knowledge to do just that. Trapeze abstracts away the arduous configuration tasks that many face when building native iOS and Android apps into a single YAML file. Users of all the most popular mobile frameworks are set up for success with a toolbox packed with the ability to write configuration scripts with the Trapeze API, inject environment variables for easy templating and streamlined customization, and automate the processes with their CI/CD workflow. 
What's next?
The team then looked toward the future starting around 37 minutes in. 
A new version of Stencil is in the works! We've gone through a major Stencil rebuild internally, and a lot of that will become evident in Stencil 3. There's an early alpha out now, but Stencil 3 should be available in early 2023. 
Overall, you can expect to see more out of the Ionic team in 2023 and beyond. With the OutSystems acquisition, we're able to add more manpower behind our projects than ever before. 
You can also expect to see more updates to Appflow – mainly support for pure native builds in Appflow. Swift apps? Kotlin apps? Expect to be able to build those in the cloud with Appflow soon!
All things OutSystems
OutSystems CTO Patrick Jean joined at 45:26 to talk more about Ionic and OutSystems' shared vision for the future.  Overall, we don't expect much to change, other than an increase in our open source investments and initiatives. We'll continue to accelerate our vision to make it easier for web developers to build the best possible mobile apps.
The show concluded with our experts answering questions live from attendees at 46:03. 
Thank you to our amazing community for not just another great Ionic Show, but another great year. We wouldn't be where we are without you, and we're eternally grateful for your contributions and support. 
Catch you all at the next Ionic Show! In the meantime, see the full recording of the Q4 show here. 
---
---